If you're looking for a dinner recipe that is complete in 30 minutes or less then stick around I have the perfect one for you. These chipotle plantain tacos are a new favourite of mine! I'm a big fan of quick and easy dinner ideas. Who wants to spend hours in the kitchen when you have a million other things you could be doing?
It's a great vegan option for those who are in search of a satisfying veggie-based meal that's healthy and filling. One of the best things about these plantain tacos is how flavourful they taste with minimal ingredients. The spicy, smokey, aromatic flavours are drawn together by subtly sweet undertones of the plantain.
Nutrition
The great thing about these tacos is the nutritional factor. Each tortilla is stuffed with a vibrant red cabbage, containing vitamin A and a powerful antioxidant called anthocyanin. Plantains are also nutritious as long as they are fried with minimal oil. It's the perfect combination.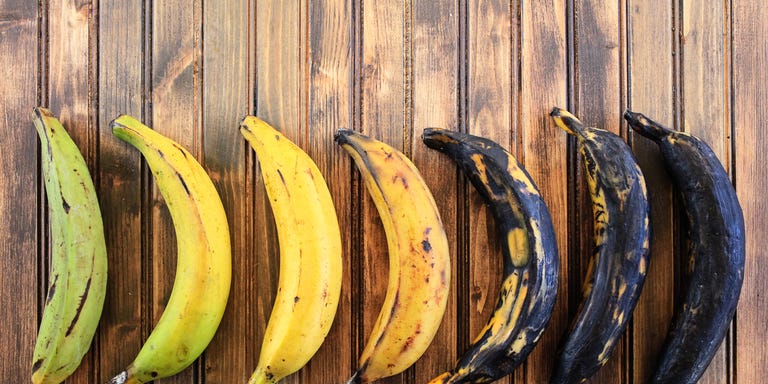 If you don't use plantains often then here are a few tips…
Ideally, you'd want to use a plantain that looks like the one in the middle because that's when they're at their best. The one after that should also be okay as long as it still feels somewhat firm.  (Picture from The Pioneer Woman).
I am aware that you'll most likely find the green ones at the supermarket. I usually go to my local grocers to get them when they're ripe. If you still can't find them there, then allowing them to ripen at home is worth the wait. The riper they are, the better they'll taste.

Overall, this recipe is the perfect solution to those busy nights when you're struggling to decide on what to eat. Check out more quick and easy dinner recipes here.
I hope you enjoy this! Thank you for reading.
Chipotle Plantain Tacos
Delicious plantain tacos served with a spicy chipotle sauce and red cabbage coleslaw. Ready in under 30 minutes!
Ingredients
Red cabbage coleslaw
½

Small

Red cabbage

¼

Small

red onion

¼

Lime

1

Tsp

Maple syrup
Plantain tacos
6

Soft regular tortillas

2

Ripe plantains

1

Tbsp

Chipotle paste

½

Tsp

salt

or to taste

¼

Tsp

garlic powder

¼

Tsp

Ground pimento

(allspice)

Oil

for frying

1

handful

Fresh coriander

3

Tbsp

Ketchup

½

Tbsp

Chipotle paste
Instructions
Slice the red cabbage lengthways and dice the red onion. Add both to a bowl with 1 tsp of maple syrup and the juice of half a lime. Mix everything together and set aside.

Add chipotle paste and ketchup into small a sauce bowl and stir. Set aside

Cut the ends off each piece of plantain and score the skin down the middle. Peel the plantain. and cut each slice diagonally.

Place the plantain into a bowl along with the chipotle paste, salt, garlic powder and ground pimento. Stir till each piece is coated.

Add approx 1 tbsp of oil into a non-stick frying pan and place it on a high heat. Allow it to heat up till the oil moves freely in the frying pan like water.

 Add the plantain pieces and fry on each side for approximately 1 minute. Each piece should be golden and slightly charred.

Warm each taco wrap either in a microwave or on a stovetop.

Assemble everything together and garnish with coriander.